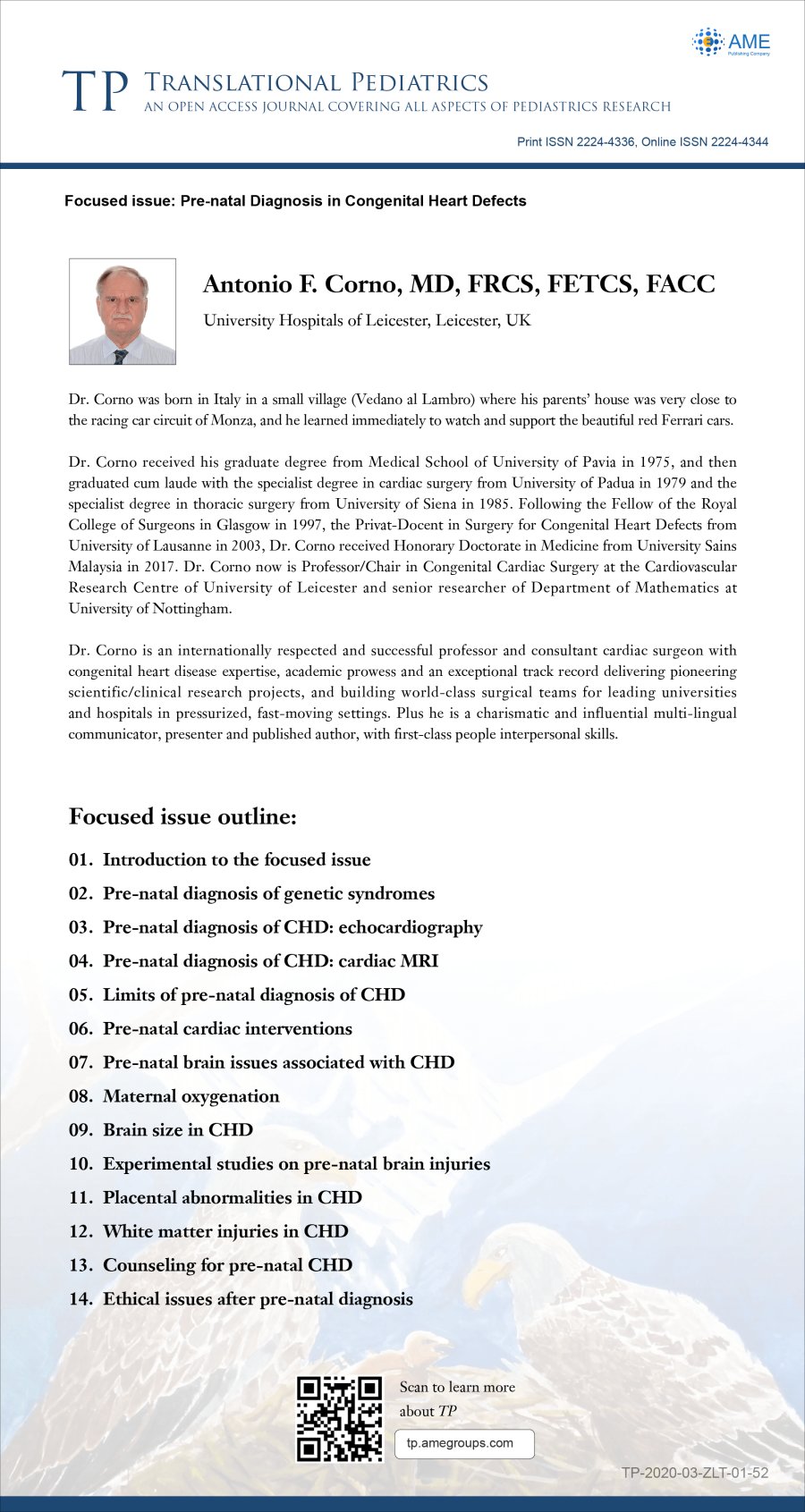 This focused issue on "Pre-natal Diagnosis in Congenital Heart Defects" is edited by Antonio F. Corno.
Antonio F. Corno, MD, FRCS, FETCS, FACC
University Hospitals of Leicester, Leicester, UK
Dr. Corno was born in Italy in a small village (Vedano al Lambro) where his parents' house was very close to the racing car circuit of Monza, and he learned immediately to watch and support the beautiful red Ferrari cars.
Dr. Corno received his graduate degree from Medical School of University of Pavia in 1975, and then graduated cum laude with the specialist degree in cardiac surgery from University of Padua in 1979 and the specialist degree in thoracic surgery from University of Siena in 1985. Following the Fellow of the Royal College of Surgeons in Glasgow in 1997, the Privat-Docent in Surgery for Congenital Heart Defects from University of Lausanne in 2003, Dr. Corno received Honorary Doctorate in Medicine from University Sains Malaysia in 2017. Dr. Corno now is Professor/Chair in Congenital Cardiac Surgery at the Cardiovascular Research Centre of University of Leicester and senior researcher of Department of Mathematics at University of Nottingham.
Dr. Corno is an internationally respected and successful professor and consultant cardiac surgeon with congenital heart disease expertise, academic prowess and an exceptional track record delivering pioneering scientific/clinical research projects, and building world-class surgical teams for leading universities and hospitals in pressurized, fast-moving settings. Plus he is a charismatic and influential multi-lingual communicator, presenter and published author, with first-class people interpersonal skills.
Focused issue outline:
Introduction to the focused issue
Pre-natal diagnosis of genetic syndromes
Pre-natal diagnosis of CHD: echocardiography
Pre-natal diagnosis of CHD: cardiac MRI
Limits of pre-natal diagnosis of CHD
Pre-natal cardiac interventions
Pre-natal brain issues associated with CHD
Maternal oxygenation
Brain size in CHD
Experimental studies on pre-natal brain injuries
Placental abnormalities in CHD
White matter injuries in CHD
Counseling for pre-natal CHD
Ethical issues after pre-natal diagnosis
Disclosure:
The focused issue "Pre-natal Diagnosis in Congenital Heart Defects" was commissioned by the editorial office, Translational Pediatrics without any sponsorship or funding. Antonio F. Corno served as the unpaid Guest Editor for the focused issue.