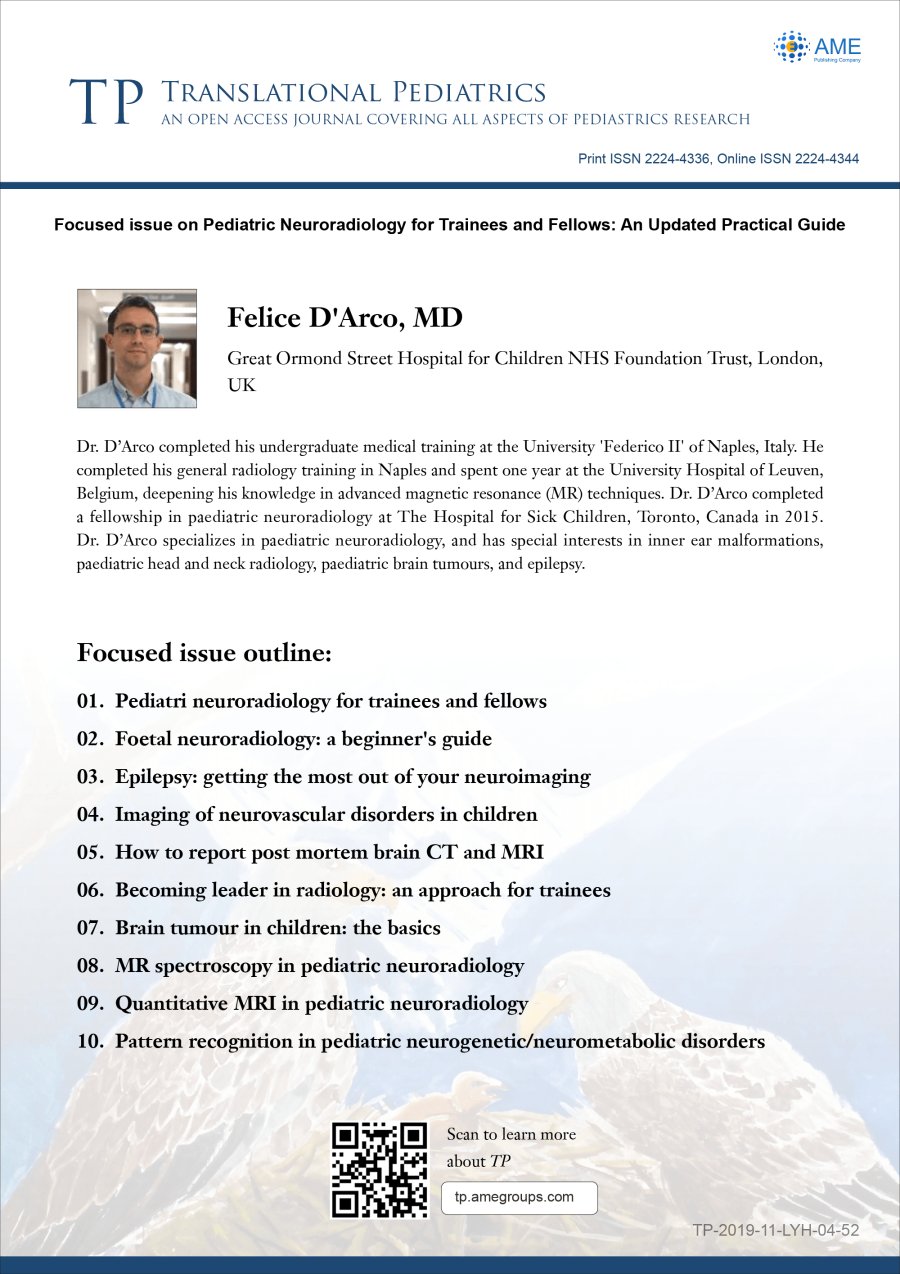 This focused issue on "Pediatric Neuroradiology for Trainees and Fellows: An Updated Practical Guide" is edited by Dr. Felice D'Arco, from Great Ormond Street Hospital for Children NHS Foundation Trust, London, UK.
Dr. D'Arco completed his undergraduate medical training at the University 'Federico II' of Naples, Italy. He completed his general radiology training in Naples and spent one year at the University Hospital of Leuven, Belgium, deepening his knowledge in advanced magnetic resonance (MR) techniques. Dr. D'Arco completed a fellowship in paediatric neuroradiology at The Hospital for Sick Children, Toronto, Canada in 2015. Dr. D'Arco specializes in paediatric neuroradiology, and has special interests in inner ear malformations, paediatric head and neck radiology, paediatric brain tumours, and epilepsy.
Focused issue outline:
Pediatri neuroradiology for trainees and fellows
Foetal neuroradiology: a beginner's guide
Epilepsy: getting the most out of your neuroimaging
Imaging of neurovascular disorders in children
How to report post mortem brain CT and MRI
Becoming leader in radiology: an approach for trainees
Brain tumour in children: the basics
MR spectroscopy in pediatric neuroradiology
Quantitative MRI in pediatric neuroradiology
Pattern recognition in pediatric neurogenetic/neurometabolic disorders
Disclosure:
The focused issue "Pediatric Neuroradiology for Trainees and Fellows: An Updated Practical Guide" was commissioned by the editorial office, Translational Pediatrics without any sponsorship or funding. Felice D'Arco served as the unpaid Guest Editor for the focused issue.