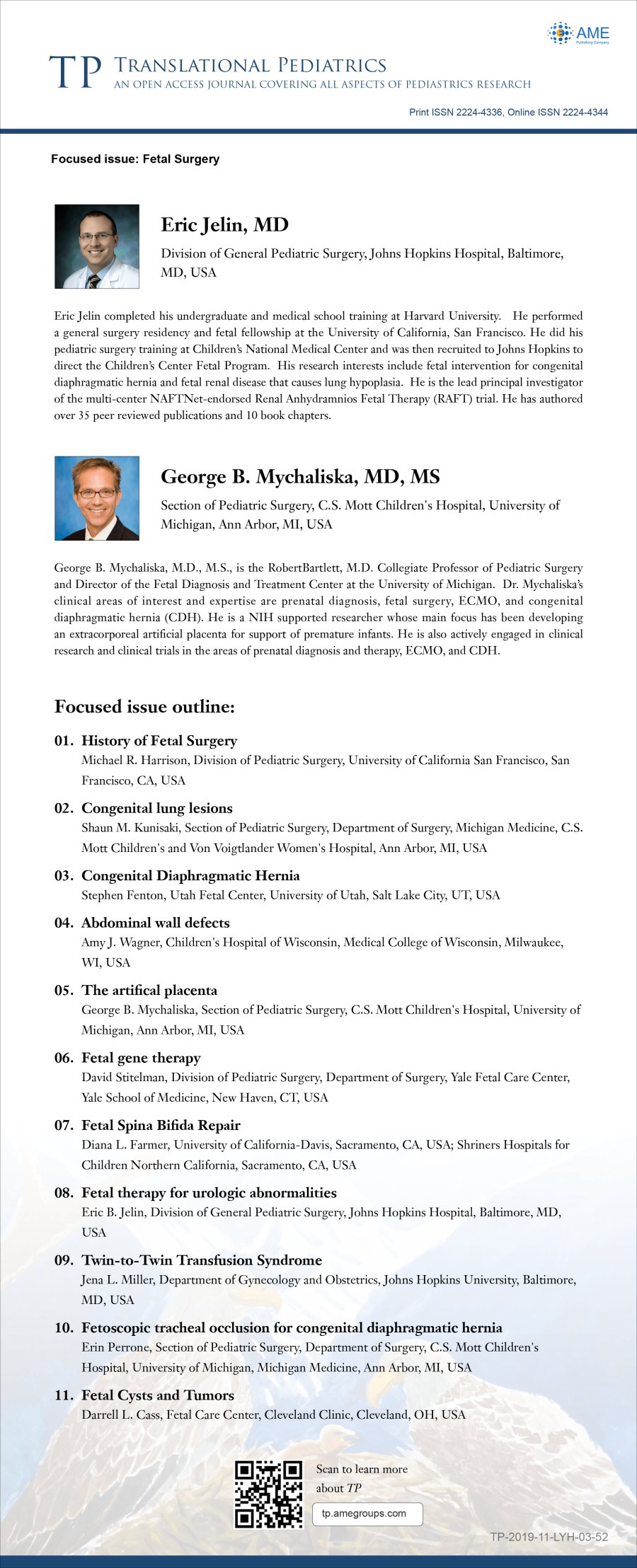 This focused issue on "Fetal Surgery" is edited by Dr. Eric Jelin from Division of General Pediatric Surgery, Johns Hopkins Hospital, Baltimore, MD, USA; and Dr. George B. Mychaliska, from Section of Pediatric Surgery, C.S. Mott Children's Hospital, University of Michigan, Ann Arbor, MI, USA.
Dr. Eric Jelin completed his undergraduate and medical school training at Harvard University. He performed a general surgery residency and fetal fellowship at the University of California, San Francisco. He did his pediatric surgery training at Children's National Medical Center and was then recruited to Johns Hopkins to direct the Children's Center Fetal Program. His research interests include fetal intervention for congenital diaphragmatic hernia and fetal renal disease that causes lung hypoplasia. He is the lead principal investigator of the multi-center NAFTNet-endorsed Renal Anhydramnios Fetal Therapy (RAFT) trial. He has authored over 35 peer reviewed publications and 10 book chapters.
Dr. George B. Mychaliska, M.D., M.S., is the RobertBartlett, M.D. Collegiate Professor of Pediatric Surgery and Director of the Fetal Diagnosis and Treatment Center at the University of Michigan. Dr. Mychaliska's clinical areas of interest and expertise are prenatal diagnosis, fetal surgery, ECMO, and congenital diaphragmatic hernia (CDH). He is a NIH supported researcher whose main focus has been developing an extracorporeal artificial placenta for support of premature infants. He is also actively engaged in clinical research and clinical trials in the areas of prenatal diagnosis and therapy, ECMO, and CDH.
Focused issue outline:
1. History of Fetal Surgery
Michael R. Harrison, Division of Pediatric Surgery, University of California San Francisco, San Francisco, CA, USA
2. Congenital lung lesions
Shaun M. Kunisaki, Section of Pediatric Surgery, Department of Surgery, Michigan Medicine, C.S. Mott Children's and Von Voigtlander Women's Hospital, Ann Arbor, MI, USA
3. Congenital Diaphragmatic Hernia
Stephen Fenton, Utah Fetal Center, University of Utah, Salt Lake City, UT, USA
4. Abdominal wall defects
Amy J. Wagner, Children's Hospital of Wisconsin, Medical College of Wisconsin, Milwaukee, WI, USA
5. The artifical placenta
George B. Mychaliska, Section of Pediatric Surgery, C.S. Mott Children's Hospital, University of Michigan, Ann Arbor, MI, USA
6. Fetal gene therapy
David Stitelman, Division of Pediatric Surgery, Department of Surgery, Yale Fetal Care Center, Yale School of Medicine, New Haven, CT, USA
7. Fetal Spina Bifida Repair
Diana L. Farmer, University of California-Davis, Sacramento, CA, USA; Shriners Hospitals for Children Northern California, Sacramento, CA, USA
8. Fetal therapy for urologic abnormalities
Eric B. Jelin, Division of General Pediatric Surgery, Johns Hopkins Hospital, Baltimore, MD, USA
9. Twin-to-Twin Transfusion Syndrome
Jena L. Miller, Department of Gynecology and Obstetrics, Johns Hopkins University, Baltimore, MD, USA
10. Fetoscopic tracheal occlusion for congenital diaphragmatic hernia
Erin Perrone, Section of Pediatric Surgery, Department of Surgery, C.S. Mott Children's Hospital, University of Michigan, Michigan Medicine, Ann Arbor, MI, USA
11. Fetal Cysts and Tumors
Darrell L. Cass, Fetal Care Center, Cleveland Clinic, Cleveland, OH, USA