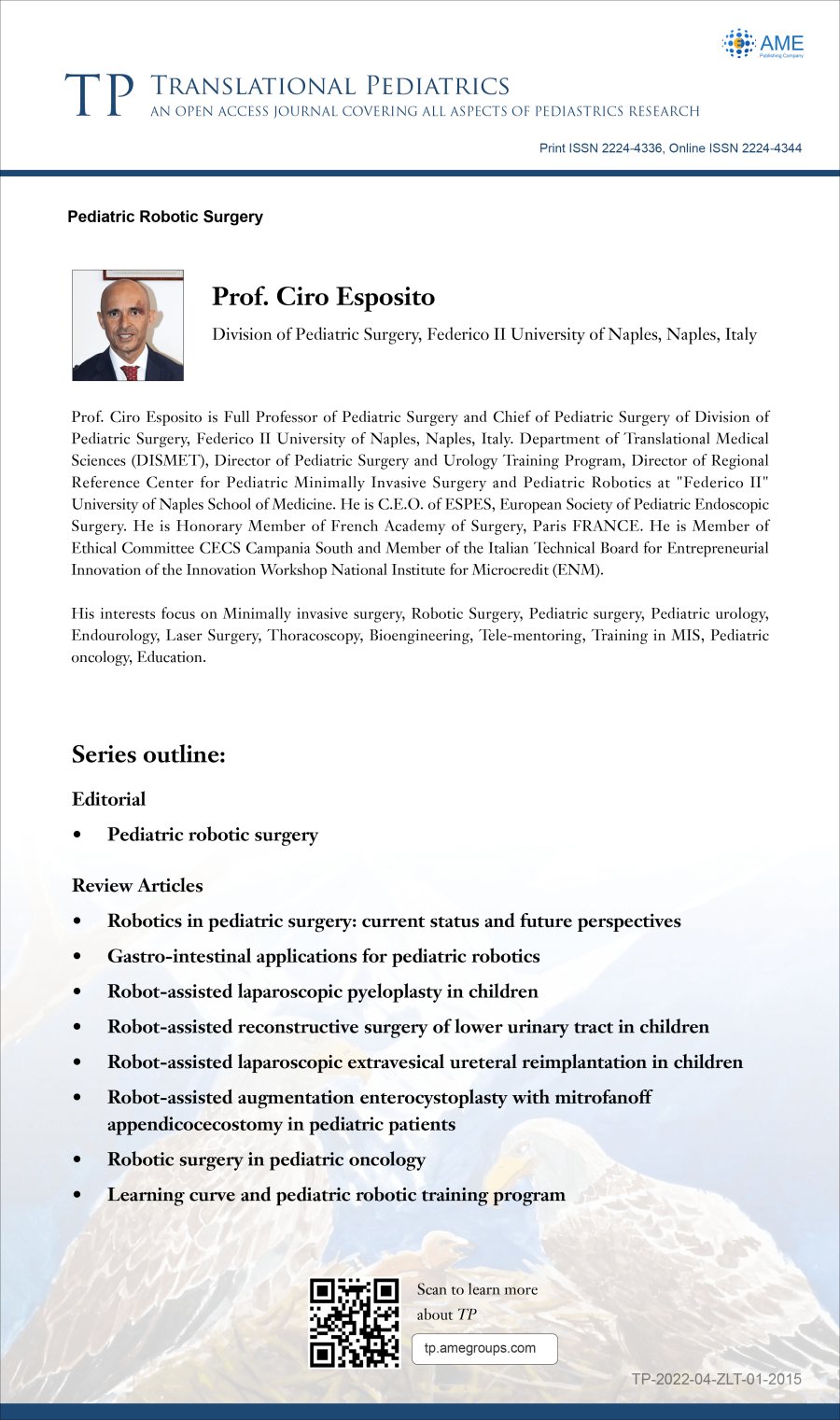 This special series on "Pediatric Robotic Surgery" is edited by Prof. Ciro Esposito from Federico II University, Naples, Italy. The main purpose of this series is to discuss the updates of pediatric robotic surgery.
Prof. Ciro Esposito
Division of Pediatric Surgery, Federico II University of Naples, Naples, Italy
Prof. Ciro Esposito is Full Professor of Pediatric Surgery and Chief of Pediatric Surgery of Division of Pediatric Surgery, Federico II University of Naples, Naples, Italy. Department of Translational Medical Sciences (DISMET), Director of Pediatric Surgery and Urology Training Program, Director of Regional Reference Center for Pediatric Minimally Invasive Surgery and Pediatric Robotics at "Federico II" University of Naples School of Medicine. He is C.E.O. of ESPES, European Society of Pediatric Endoscopic Surgery. He is Honorary Member of French Academy of Surgery, Paris FRANCE. He is Member of Ethical Committee CECS Campania South and Member of the Italian Technical Board for Entrepreneurial Innovation of the Innovation Workshop National Institute for Microcredit (ENM).
His interests focus on Minimally invasive surgery, Robotic Surgery, Pediatric surgery, Pediatric urology, Endourology, Laser Surgery, Thoracoscopy, Bioengineering, Tele-mentoring, Training in MIS, Pediatric oncology, Education.
Series outline:
Editorial

Pediatric robotic surgery
Review Articles
Robotics in pediatric surgery: current status and future perspectives
Gastro-intestinal applications for pediatric robotics
Robot-assisted laparoscopic pyeloplasty in children
Robot-assisted reconstructive surgery of lower urinary tract in children
Robot-assisted laparoscopic extravesical ureteral reimplantation in children
Robot-assisted augmentation enterocystoplasty with mitrofanoff appendicocecostomy in pediatric patients
Robotic surgery in pediatric oncology
Learning curve and pediatric robotic training program
Disclosure:
The series "Pediatric Robotic Surgery" was commissioned by the editorial office, Translational Pediatrics without any funding or sponsorship. Ciro Esposito is serving as the unpaid Guest Editor for the series.