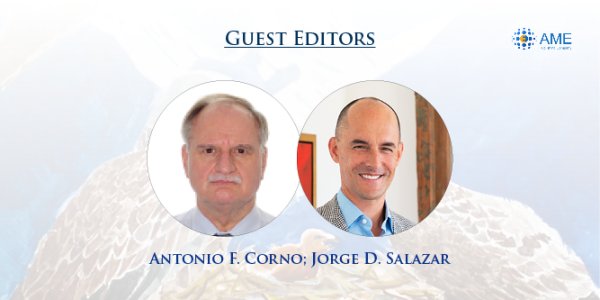 This column on "Pediatric Heart" is edited by Dr. Antonio F. Corno from Politecnico di Milano, Italy and Dr. Jorge D. Salazar from UTHealth Houston Children's Heart Institute, USA.
Introduction to the Column
This regular column has been designed to create a space on Translational Pediatrics, the rapidly emerging pediatric international journal, specifically dedicated to the heart disease in the pediatric age. The purpose is to offer to the researchers and clinicians involved with the cardiac care in children a dedicated column where to submit the results of their studies, considering that the publications related to pediatric heart issues generally end up on journal with mixed contents of adult and pediatric specialties, often with cardiovascular and thoracic articles. The available alternatives are pediatric cardiac journals not reaching elevated Impact Factor, despite being around from decades. The readers of Translational Pediatrics should be delighted to have a designated "Column" where easily find original and review articles dealing with heart disease in the pediatric age, which will become for them a fixed point of reference.
Editorial Commentary on Pediatric Heart
Articles to be continued.

Introduction to the Guest Editors
Prof. Antonio F. Corno, MD, FRCS, FETCS, FACC
MOX, Department of Mathematics, Politecnico di Milano, Milano, Italy
Research Associate, Engineering, University of Leicester, England, U.K.

Dr. Corno received his graduate degree from Medical School of University of Pavia in 1975, and then graduated cum laude with the specialist degree in cardiac surgery from University of Padua in 1979 and the specialist degree in thoracic surgery from University of Siena in 1985. Following the Fellow of the Royal College of Surgeons in Glasgow in 1997, the Privat-Docent in Surgery for Congenital Heart Defects from University of Lausanne in 2003, Dr. Corno received Honorary Doctorate in Medicine from University Sains Malaysia in 2017. From 2017-2020, Dr. Corno was Professor/Chair in Congenital Cardiac Surgery at the Cardiovascular Research Centre of University of Leicester and senior researcher of Department of Mathematics at University of Nottingham. From July 2020 to March 2023, Dr. Corno was Research Professor at the Children's Heart Institute of the Memorial Hermann Children's Hospital, and at the University Texas Health of McGovern Medical School in Houston, Texas, USA. To move close to his family, following his passion for mathematics and bioengineering, he moved back to Europe as Scientific Collaborator in the Department of Mathematics at the "Politecnico" of Milan, Italy, and as Research Associate in the Department of Engineering at the University of Leicester, England.
Dr. Corno is an internationally respected and successful professor and consultant cardiac surgeon with congenital heart disease expertise, academic prowess and an exceptional track record delivering pioneering scientific/clinical research projects, and building world-class surgical teams for leading universities and hospitals in pressurized, fast-moving settings. Plus he is a charismatic and influential multi-lingual communicator, presenter and published author, with first-class people interpersonal skills.
Jorge D. Salazar, MD
UTHealth Houston Children's Heart Institute, Houston, Texas, USA
Dr. Jorge Salazar was born in San Francisco, California. He earned his Bachelors of Science Degree in Mathematics followed by his Doctorate of Medicine at the University of Washington in Seattle.
He completed his residency training in both General Surgery and Cardiothoracic Surgery at Johns Hopkins Hospital in Baltimore, Maryland, including two years of dedicated scientific research. Following this, he completed his Pediatric Cardiothoracic Surgery fellowship at the University of California, San Francisco (UCSF). Dr. Salazar is board-certified in Surgery, Cardiothoracic Surgery, and Pediatric Congenital Heart Surgery.
Dr. Salazar believes that all children deserve an opportunity to reach their full potential. Clinical and academic innovations highlight his distinguished career, as he focuses on building programs dedicated to serving children afflicted with heart disease in both the national and international arenas. Dr. Salazar provides hope to the children of Houston bringing years of experience creating and growing congenital heart programs across the United States.
Most recently as a surgeon in the elite program at Boston Children's Hospital and as a professor at Harvard Medical School, Dr. Salazar arrive to Houston with his family in August of 2017 just as Harvey blew in to overwhelm the city. Dr. Salazar believes that together our community can create a winning program for the hearts of Houston's children.
As Professor and Chief of Pediatric and Congenital Heart Surgery and the McGovern Distinguished Chair at the McGovern Medical School, UT Health, Dr. Salazar built the Houston Children's Heart Institute in partnership with the Memorial Hermann Hospital System housed in Children's Memorial Hermann Hospital in the Texas Medical Center.
Dr. Salazar has led his team to be recognized as one of the top 10% of children's heart centers in North America based on a very high patient complexity that provides excellent, better than expected outcomes. Dr. Salazar provides innovative, life-sustaining care to patients turned down or judged to be without hope by other centers and provides successful heart repairs for these children.
Dr. Salazar is an international leader in the care of children and adults with congenital heart disease, which affects one out of every 100 children born worldwide. His most recent accomplishment includes the President of Panama asking him to lead the pediatric heart services for the entire country of Panama.
On a personal note, Dr. Salazar is the father of seven beautiful children and married to his wife April, a native Texan. His mission to heal children in Houston (and beyond) with congenital heart defects is deeply personal, which has led to his major innovations in finding solutions for even the most complex problems.
Disclosure:
The column "Pediatric Heart" is commissioned by the editorial office Translational Pediatrics without any sponsorship or funding. Dr. Antonio F. Corno and Jorge D. Salazar are serving as the unpaid Guest Editors for the column.