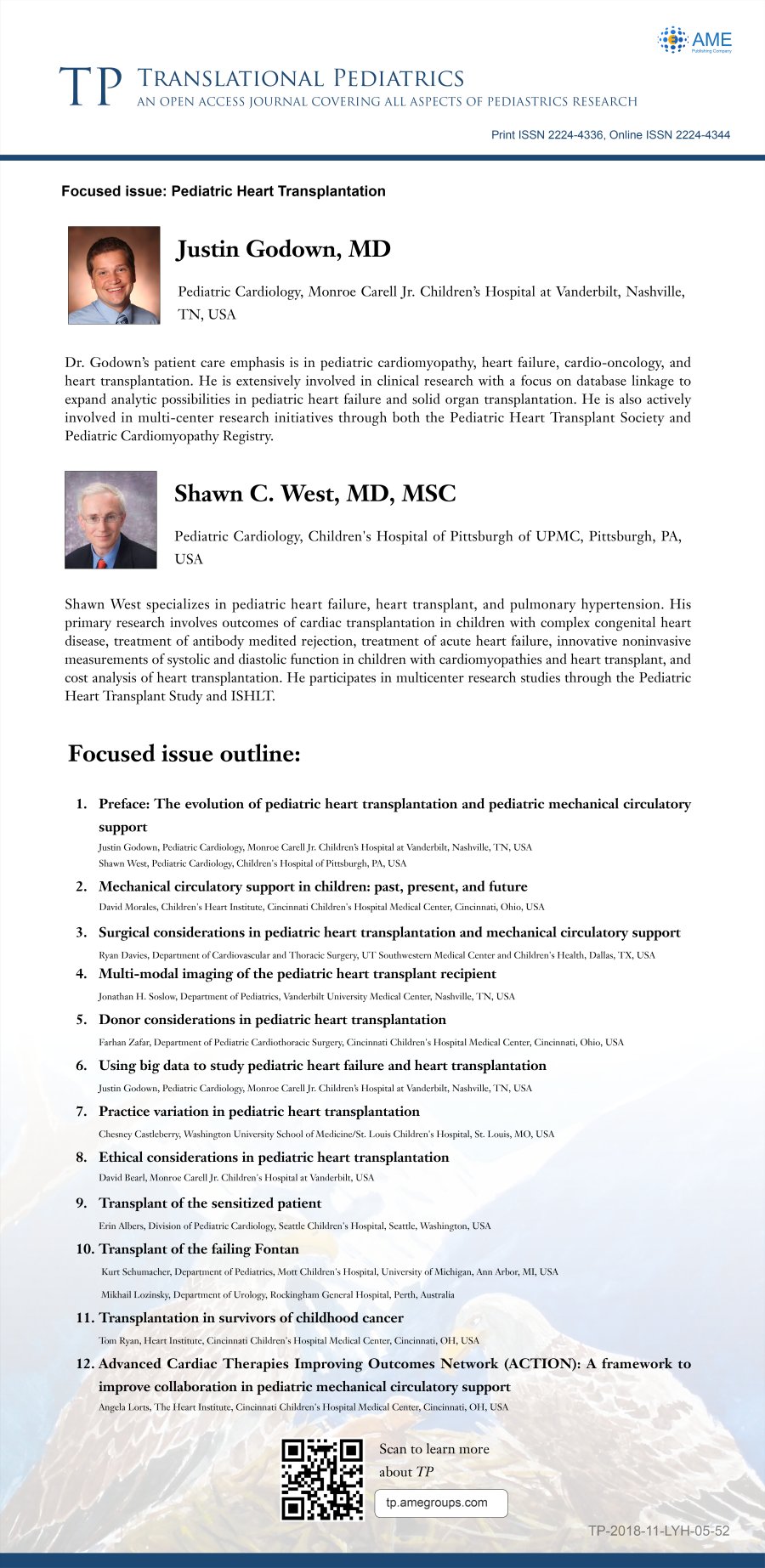 This focused issue on "Pediatric Heart Transplantation" is edited by Dr. Justin Godown, from Pediatric Cardiology, Monroe Carell Jr. Children's Hospital at Vanderbilt, Nashville, TN, USA; and Dr. Shawn C. West, from Pediatric Cardiology, Children's Hospital of Pittsburgh of UPMC, Pittsburgh, PA, USA.

Dr. Justin Godown's patient care emphasis is in pediatric cardiomyopathy, heart failure, cardio-oncology, and heart transplantation. He is extensively involved in clinical research with a focus on database linkage to expand analytic possibilities in pediatric heart failure and solid organ transplantation. He is also actively involved in multi-center research initiatives through both the Pediatric Heart Transplant Society and Pediatric Cardiomyopathy Registry.

Dr. Shawn West specializes in pediatric heart failure, heart transplant, and pulmonary hypertension. His primary research involves outcomes of cardiac transplantation in children with complex congenital heart disease, treatment of antibody medited rejection, treatment of acute heart failure, innovative noninvasive measurements of systolic and diastolic function in children with cardiomyopathies and heart transplant, and cost analysis of heart transplantation. He participates in multicenter research studies through the Pediatric Heart Transplant Study and ISHLT.


Focused issue outline:
Preface: The evolution of pediatric heart transplantation and pediatric mechanical circulatory support
Justin Godown, Pediatric Cardiology, Monroe Carell Jr. Children's Hospital at Vanderbilt, Nashville, TN, USA
Shawn West, Pediatric Cardiology, Children's Hospital of Pittsburgh, PA, USA

Mechanical circulatory support in children: past, present, and future
David Morales, Children's Heart Institute, Cincinnati Children's Hospital Medical Center, Cincinnati, Ohio, USA
Surgical considerations in pediatric heart transplantation and mechanical circulatory support
Ryan Davies, Department of Cardiovascular and Thoracic Surgery, UT Southwestern Medical Center and Children's Health, Dallas, TX, USA
Multi-modal imaging of the pediatric heart transplant recipient
Jonathan H. Soslow, Department of Pediatrics, Vanderbilt University Medical Center, Nashville, TN, USA

Donor considerations in pediatric heart transplantation
Farhan Zafar, Department of Pediatric Cardiothoracic Surgery, Cincinnati Children's Hospital Medical Center, Cincinnati, Ohio, USA
Using big data to study pediatric heart failure and heart transplantation
Justin Godown, Pediatric Cardiology, Monroe Carell Jr. Children's Hospital at Vanderbilt, Nashville, TN, USA
Practice variation in pediatric heart transplantation
Chesney Castleberry, Washington University School of Medicine/St. Louis Children's Hospital, St. Louis, MO, USA
Ethical considerations in pediatric heart transplantation
David Bearl, Monroe Carell Jr. Children's Hospital at Vanderbilt, USA
Transplant of the sensitized patient
Erin Albers, Division of Pediatric Cardiology, Seattle Children's Hospital, Seattle, Washington, USA
Transplant of the failing Fontan
Kurt Schumacher, Department of Pediatrics, Mott Children's Hospital, University of Michigan, Ann Arbor, MI, USA
Transplantation in survivors of childhood cancer
Tom Ryan, Heart Institute, Cincinnati Children's Hospital Medical Center, Cincinnati, OH, USA
Advanced Cardiac Therapies Improving Outcomes Network (ACTION): A framework to improve collaboration in pediatric mechanical circulatory support
Angela Lorts, The Heart Institute, Cincinnati Children's Hospital Medical Center, Cincinnati, OH, USA