Letter to the Editor
Surgical septal myectomy for obstructive hypertrophic cardiomyopathy during infancy
We read with great interest the editorial by Bansal et al. (1) in response to our original manuscript published at the European Journal of Cardiothoracic Surgery. Hypertrophic obstructive cardiomyopathy with debilitating heart failure symptoms in little children is a challenging medical condition.
We agree with the authors of the editorial, that one interesting question is the precarious determination of the most convenient time for surgical relieve of left ventricular outflow tract obstruction in children with symptomatic obstructive hypertrophic cardiomyopathy. A recent study from Cavigli et al. again provided evidence, that early septal reduction therapy decreases long-term morbidity and complications related to hypertrophic cardiomyopathy in adults (2).
In our study we showed that, if inevitable, surgical relief of the left ventricular outflow tract obstruction can be performed safely in infants younger than one year of age with favorable outcome but with a trend to a higher rate for reoperation later in life.
However, we would like to emphasize, that the option of early and aggressive surgery in infants, children and adolescents with obstructive hypertrophic cardiomyopathy should only be discussed if conservative treatment including therapy with high-dose beta-blocker (3) and disopyramide (4,5) cannot be performed or has failed to improve symptoms. A sub analysis of our original manuscript showed, that the percentage of patients undergoing myectomy diagnosed with hypertrophic cardiomyopathy during childhood decreased within the past decades secondary to the increased use of high-dose beta-blockers and disopyramide [see online supplements Table 1 (6), and Figure 1 below].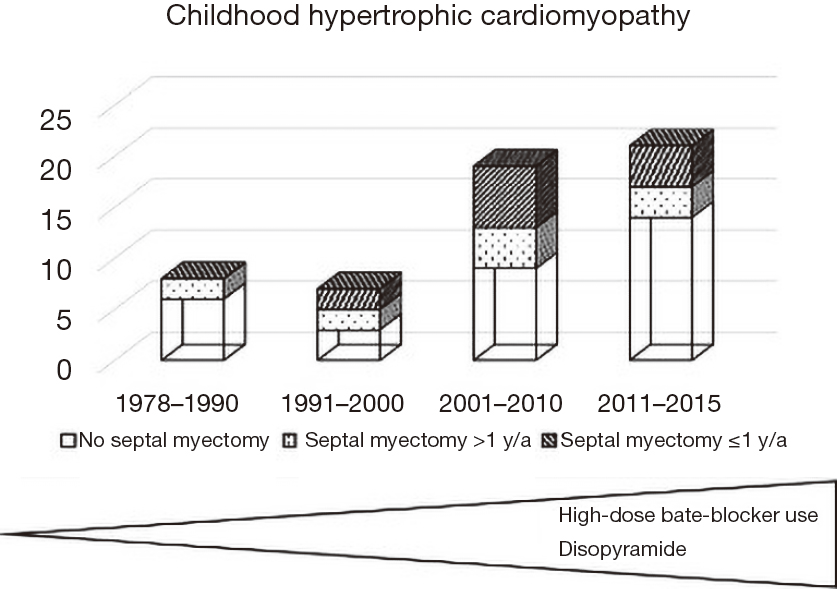 Figure 1 Number of patients diagnosed with childhood hypertrophic cardiomyopathy and no septal myectomy performed (empty bars), surgical septal myectomy performed during childhood at greater than 1 year of age (dotted bars), and surgical septal myectomy performed during infancy at 1 year of age and less (striped bars).
We agree with the authors of the editorial with the additionally mentioned limitations of our study: small sample size because of small incidence of obstructive hypertrophic cardiomyopathy in infants plus retrospective nature of the study design limits the generalizability of our results.
Long-term results in our study were evaluated at a mean time period of 8.9 years after surgery. It is right, that data for very late results are still missing and should be evaluated in further studies.
In accordance with the authors of the editorial, we agree that assessment of quality of life as outcome is essential for appropriate counseling of families. We had therefore used a standardized questionnaire to assess the health-related self-perceived quality-of-life by either the Sf-36 (7,8) or the KINDL-R questionnaire (9,10), depending on the patient's age at the time of study. Patients received the questionnaire during their clinical outpatient visit. The results of the assessment of quality of life in our study showed no significant differences between the two groups of comparison as compared to an age matched standard population [see online supplements in the original manuscript (6)].
We would like to thank the authors of the editorial for the interesting input concerning anesthesia before the age of three. In the absence of alternatives to surgery, this is a very important point to discuss with the parents of patients suffering from hypertrophic cardiomyopathy and advanced heart failure symptoms very early in life before considering surgery.
In conclusion we agree with the authors of the editorial, that, even though general outcome is favorable, the indication for surgical septal myectomy for obstructive hypertrophic cardiomyopathy should be done only if conservative and other treatment options have failed.
---
Acknowledgements
None.
---
Footnote
Conflicts of Interest: The authors have no conflicts of interest to declare.
---
References
Cite this article as: Schleihauf J, Cleuziou J, Wolf CM. Surgical septal myectomy for obstructive hypertrophic cardiomyopathy during infancy. Transl Pediatr 2019;8(1):90-91. doi: 10.21037/tp.2018.12.01